CAREER SOURCE FLORIDA AND ORANGE TECHNICAL COLLEGE PARTNER FOR SUMMER YOUTH PROGRAM.
Career Source Florida has partnered with Orange County Technical College to offer their 2023 Summer Youth Program which encourages high school students to explore various career opportunities and local industries. Depending on the track they apply for, students will get the opportunity to try out a day-in-the-life in careers, build project portfolios, or gain resume-worthy work experience – all while getting compensated up to $1,200. Some of the industries the students get to explore range from culinary to technology and construction.
During the first week of the program, students are introduced to business etiquette and professionalism. Throughout the following weeks, students are taken on field trips to local companies and organizations to participate in hands-on learning. This allows them to see various career fields in action that they may have previously not known about. The last two weeks of the program are spent at Orange Technical College's West Campus to explore the Building Construction and Health Science programs.
This is an awesome opportunity for students to gain hands-on experience in different careers and learn the skills necessary to obtain jobs. We are benefiting the community by creating productive members of society who can go out into the workforce prepared and excel in their careers.
FINFROCK INVITES SUMMER YOUTH PROGRAM TO APOPKA FACILITY.
As part of their 4-week itinerary, the program coordinated two visits to FINFROCK's Apopka facility to showcase the various trades and career opportunities available to all skill levels of Orange County's up-and-coming workforce. With a nationwide shortage of skilled laborers currently in the construction sector, these programs help bridge the gap between the industry's needs and our future talent pipeline.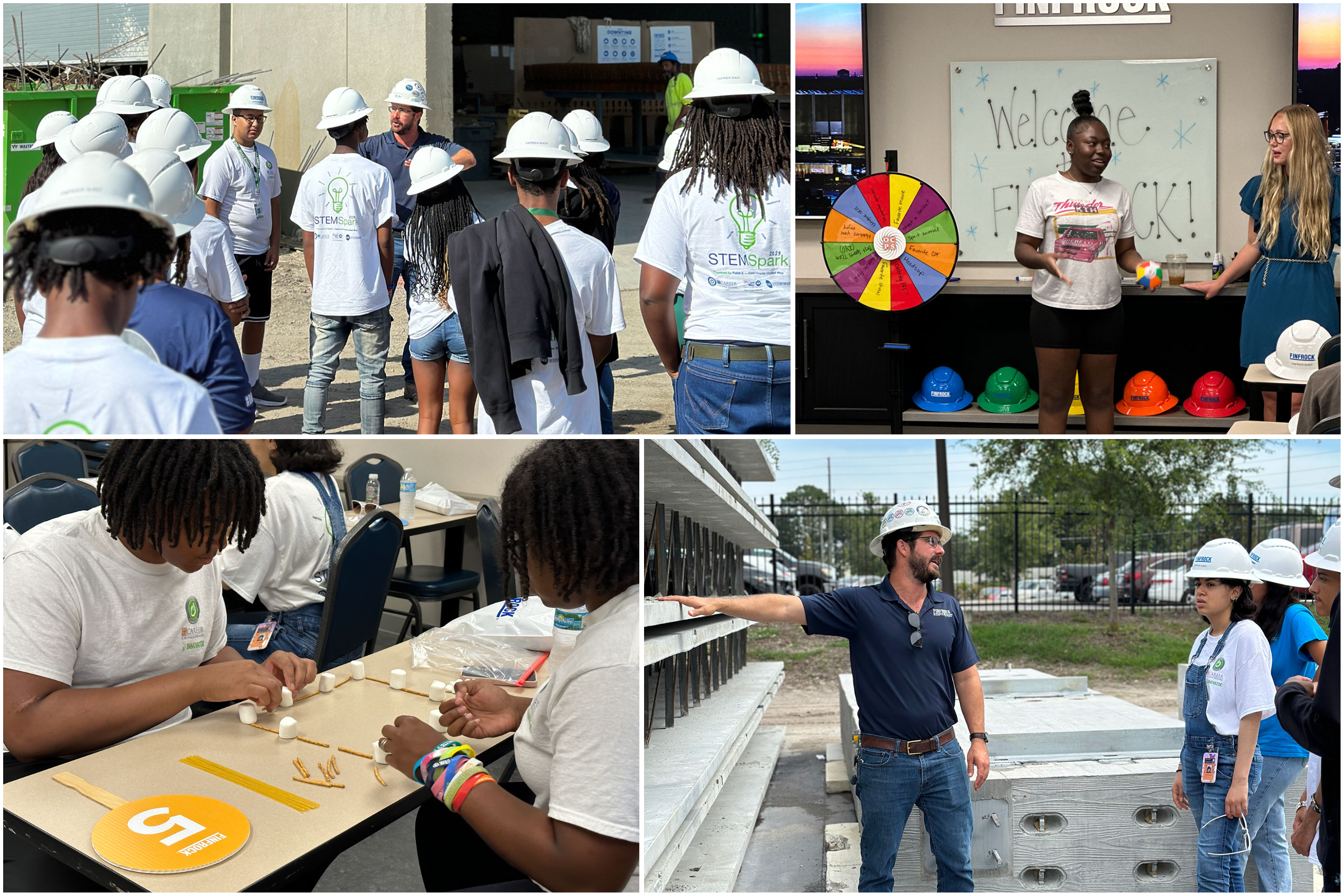 During their visit, the students were able to network with FINFROCK employees and meet some of our staff. They learned about FINFROCK's history, the basics of our design-build business model, and the various roles and opportunities available to entry-level employees. Our team also facilitated a hands-on activity that enabled the students to think creatively and build a standing structure using only marshmallows, pretzel sticks, and spaghetti. For the remainder of the day, the students were taken on a tour of our facility led by our Manufacturing Operations Manager, Greg Whissel. During the tour, students were able to see some of our products up close and observe what a typical workday looks like for our manufacturing personnel.
Pictured in the photo above are Emanuel and his two previous instructors who were chaperoning the students during their visit to FINFROCK.
Emanuel is one of the manufacturing personnel that the students met on their tour. He is currently an apprentice in our carpentry shop and was a former student at Orange Technical College before joining FINFROCK in January 2023.
WELCOMING THE BOYS & GIRLS CLUBS OF CENTRAL FLORIDA
In addition to the Summer Youth Program, FINFROCK extended the experience to the Universal Orlando and Walt Disney World Clubhouse teens from the Boys & Girls Clubs of Central for a day of learning and exploring the world of design-build! This additional partnership was a huge success and we look forward to many more community partnerships to help the young workforce discover new career paths in the trades!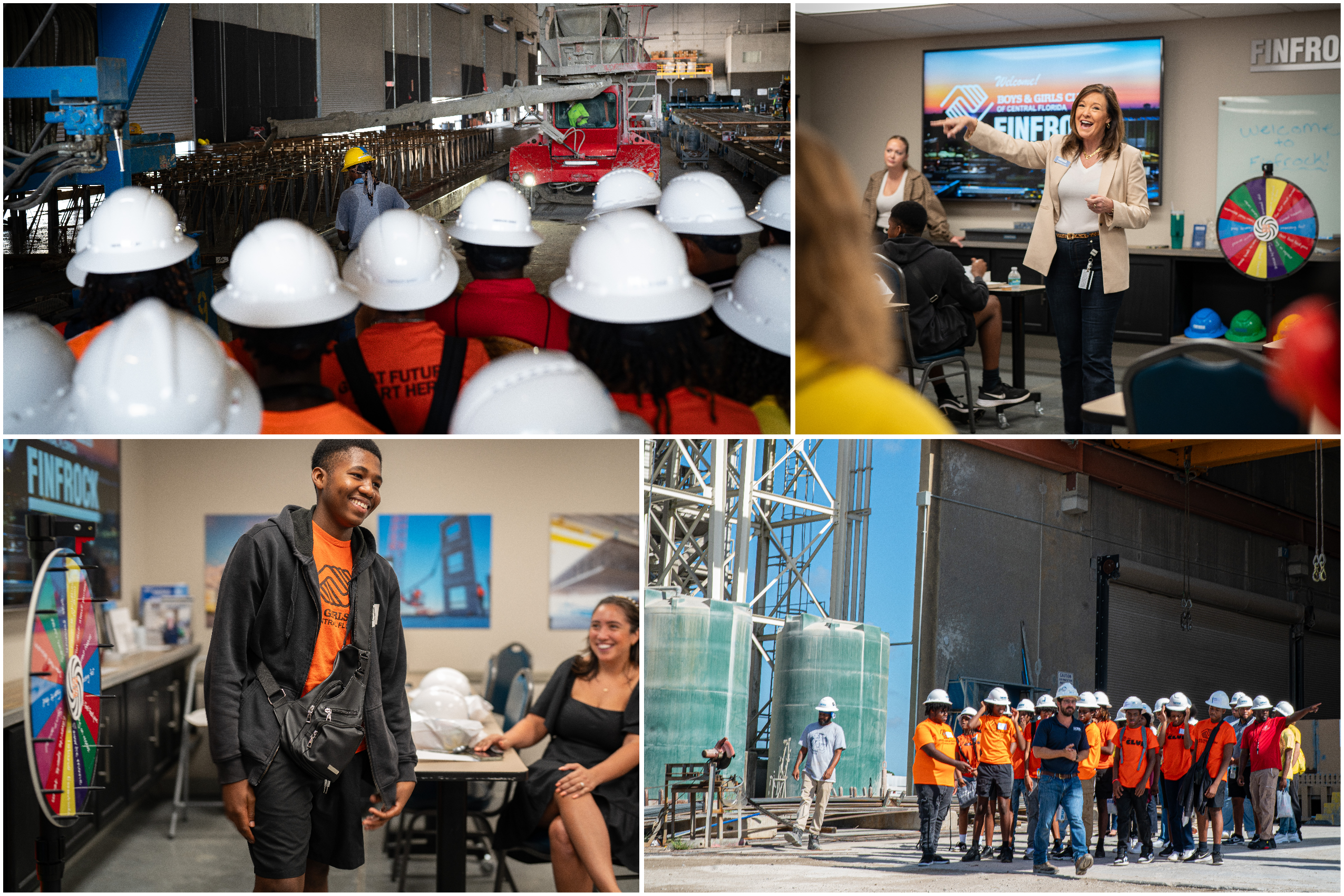 If your organization is interested in an educational partnership or touring our Apopka facility, contact marketing@finfrock.com