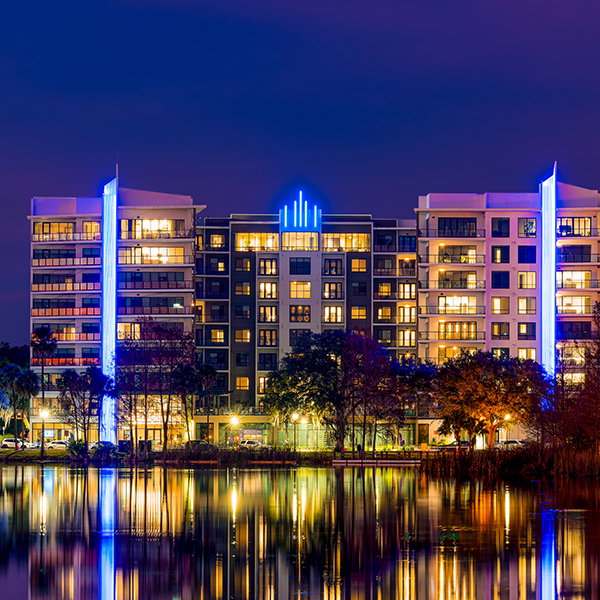 Uniquely designed
Lake House benefits from a unique and valuable level of design input from multiple neighborhood groups. Over an extended period of time, representatives from each group worked directly with the developer to formulate a design based on two guiding principles—honor the historic nature of Ivanhoe Village and create a new landmark within the City of Orlando.
Luxury living in Ivanhoe Village
The project has a pair of larger penthouse units for rent on the top floor, which offers views of downtown Orlando set behind Lake Ivanhoe. In addition, the complex features eight, two-level units for rent with a staircase and yard.
Distinctive architecture and downtown views
The Lake House Apartments sit across from beautiful Lake Ivanhoe on a 2.4 acre site above 34,900 square feet of office space and 2,563 square feet of eatery space. The luxury residences include 19,537 of amenity space including an elevated pool deck, fitness center, lounge and clubhouse overlooking Lake Ivanhoe and the downtown Orlando skyline. Residents enjoy secure parking in a 523 space precast garage and the ability to walk to neighboring boutiques, restaurants, parks, and a brewery.
This is the second market rate multi-family project to utilize FINFROCK's innovative DualDeck® Building System, following the award-winning Broadstone Winter Park multifamily residences for Alliance Residential. The DualDeck® offers the durability of a truly all concrete building that is unmatched. FINFROCK also utilizes 3D Building Information Modeling (BIM) and laser technology to enhance manufacturing productivity and lower costs substantially.
FINFROCK was the design-build general contractor, architect, and structural engineer for the apartments and the parking structure.