ucf towers at knights plaza
STUDENT HOUSING AND PARKING GARAGE
Where campus events shine
The Towers apartments are nestled in one of the most dynamic areas on campus-Knights Plaza. With concerts, athletic events, the All Knight Study, RWC @ Knights Plaza and lots of great retail and dining options, this area of campus is the place to be.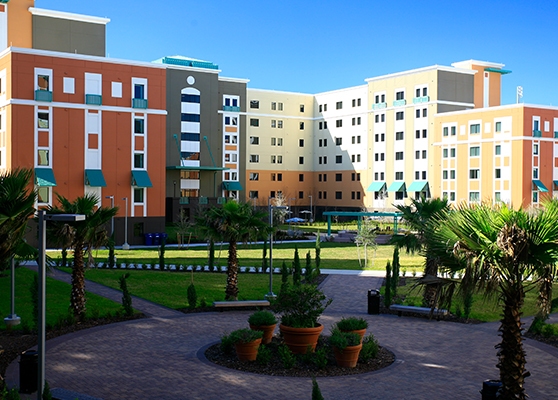 Amenities
These apartments feature full kitchens with dishwashers, single bedrooms with full-size beds and private garage parking for residents. The typical apartment layout has four bedrooms sharing two bathrooms. 
An exciting campus experience at the University of Central Florida
The design architect was faced with an especially aggressive schedule when it recieved the go ahead for this project with a delivery date in one year. After comparing several structural systems, FINFROCK's proved to be the only which permitted delivery of the project on schedule and at the lowest cost.
FINFROCK designed, manufactured and erected the structures of four student housing facilities totaling 2,000 beds in 800,000 square feet of living area and three parking garages totaling 2,150 stalls. The garages were designed with an integral cornice which sped the construction time, reduced the overall cost, and improved the durability of the structure.
FINFROCK served as engineer of record, precast manufacturer, and parking consultant.