BUILDING IT RIGHT FROM THE START: DESIGNING FOR LONGEVITY
If we've learned one thing from the events in the construction industry over the past year, it's that we can't ignore our infrastructure, and we need to invest in it from the start.
Buildings "live" in the environment that we ourselves live in – but aging is a natural and inevitable process with structures declining over time without proper maintenance. However, the ultimate measure of success of any structural system is its ability to deliver long-term performance.
That starts with choosing the right design and construction partner from the beginning so that lifecycle maintenance is an inherent advantage and not a costly afterthought.
FINFROCK's precast/prestressed concrete building method offers significant cost advantages in terms of attractive, affordable exterior design options along with quality construction and overall maintenance costs.
ARE YOU SET UP TO MAINTAIN YOUR INVESTMENT?
In light of today's concerns over building safety, the long-term health of any building weighs heavily on the consumer's decision to invest in properties. Potential buyers and tenants have placed a higher priority on a building's construction history and maintenance records, motivating developers to drill down the details starting in the design phase.
Even though repairs might be an expensive and inconvenient undertaking, it is in everyone's best interest to make them. The good news is that there are quality structural solutions that are built to last. This means developers will combat the exponential growth of repair costs with a quality building, thereby investing less in on-going maintenance and repairs.
For example, precast/prestressed concrete offers unmatched advantages in terms of extreme weather protection. The components are manufactured to such tolerances that each piece fits together precisely, reducing the risk of water intrusion. The thermal mass of precast/prestressed concrete components provides superior temperature control and protection against fire and security breaches. A forward-thinking design-build company that specializes in precast concrete, like FINFROCK, is the ideal partner because of the preventative maintenance packages offered that prevent minor problems from becoming costly repairs.
With FINFROCK's single-source approach to designing and constructing buildings and parking garages, developers are given a guaranteed cost and schedule from the start. As an architect with high expertise in precast concrete manufacturing and construction, FINFROCK can quickly arrive at a final design that exceeds all stakeholder requirements. FINFROCK's effective and award-winning design-build process works to extend a building's lifecycle and has been used in countless parking, residential and mixed-use structures throughout the United States.
CASE STUDY: LOCATION, LOCATION, LOCATION
(AND PROXIMITY TO SALTWATER)
Close tolerances, precise fits and powerful structural integrity add up to big dividends during storm season and in real estate markets susceptible to water damage. For beachfront buildings that are made from reinforced concrete, the ocean is a constant source of danger. Like a steel skeleton, strand and rebar runs through concrete columns and slabs. Saltwater seeping through concrete can cause the steel to rust and expand, resulting in corrosion and eventually causing a building to collapse. FINFROCK uses the highest quality waterproofing membrane available today that can provide a leak-proof roofing system to withstand vehicle traffic use. This is a crucial detail in the integration of a retail space situated below a parking garage.
FINFROCK has proven that connections made on the top surface of a structure can become a weak point in a waterproofing system. This is why the company chooses to move those connections to the underside of the precast structure, where significantly fewer weak points are exposed on the upper surface. In areas where there is a high presence of saltwater, FINFROCK also incorporates stainless steel connections with a special mix of concrete material to minimize building deterioration from water and chlorides.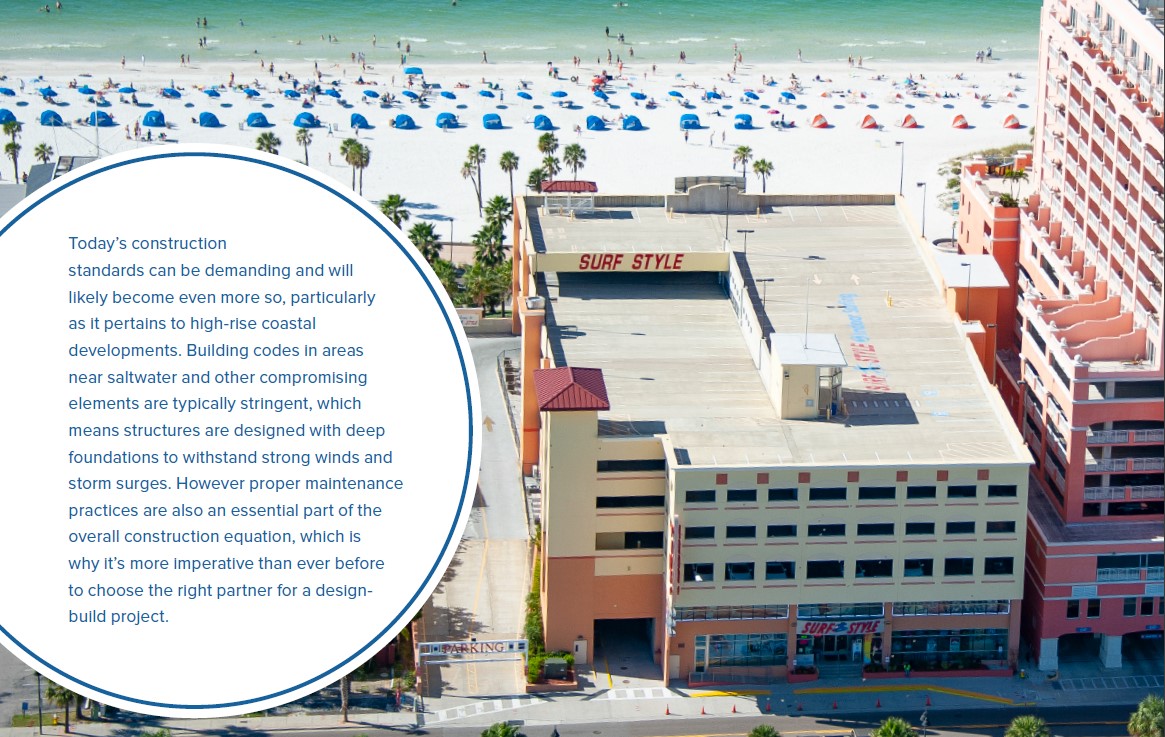 THAT'S BUILT TO WITHSTAND THE TEST OF TIME.
Upscale urban residential communities are among the hottest trends in real estate today and every single one of those projects has a common challenge: Parking.
Developers can depend on FINFROCK to fully integrate a parking structure that is built to last with the aesthetics of a new mixed-use facility. With FINFROCK's precast/prestressed concrete structural elements, components are designed and engineered to allow generous open spans on every floor, requiring less interior support than conventional cast-in-place structures.
FINFROCK improves the competitive position of your project by:
Complementing the design of your building project
Incorporating architectural elements into exterior load-bearing walls
Delivering finished structures on time at
a guaranteed price
Offering a maintenance and repair program designed to minimize your life-cycle costs and protect your investment
GET THE BUILDING YOU WANT
At FINFROCK, our in-house architects and engineers work with you as a team from the onset, using your functional, aesthetic, and economic requirements to develop concepts that work. This allows you to receive an early, guaranteed price and schedule for your project. Through a combination of our in-house design, manufacturing experience, modular construction knowledge, and an outstanding database of cost information, FINFROCK develops accurate, below market pricing for your building, even with minimally developed plans.