Would you consider a different building system for your next project if you could gain even a few of the following benefits?
Minimized chance of building obsolescence
Accelerated schedules
Superior attributes of concrete construction
No contractor initiated change orders
Lower initial and life cycle costs
FINFROCK's revolutionary DualDeck® Building System delivers not just a few, but all of these benefits with each project.
The DualDeck®  Building System is the result of more than a decade of proprietary engineering and development — producing the type of disruptive technology that changes industries. Unlike typical construction methods, this building system can be highly customized with the flexibility to adapt to most any programmatic or design criteria. Mass customization means schedules can be accelerated, and costs can be reduced. Accessible interstitial space simplifies maintenance, reducing life cycle costs.
The Science of DualDeck®
The DualDeck® Building System consists of a composite truss designed for long spans of column-free support. DualDeck® is made by attaching two 2.5-in.-thick precast, prestressed concrete slabs with high-strength reinforcement and steel angles. Each structural member is typically up to 14 ft wide, 68 ft long, and between 20 and 24 in. thick. The top panel of a DualDeck® is lifted out of the form and moved to a rotating vacuum table located in the center of the production area. Once the top slab is inverted, it is set in the form where the bottom slab is being poured. The DualDeck® is complete once the bottom slab has cured. Because panels are poured upside down and flipped over, both sides of the product are perfectly flat, creating steel-formed floor and ceiling surfaces quicker and with less finishing costs.
The Benefits of DualDeck®
By combining incremental changes in technology — more powerful computers, industry specific software, BIM, and lasers — we've created the disruptive technology of the DualDeck Building System. It changes not only how we build buildings but also how you purchase them. The ability to plan everything ahead of time and include it in the BIM model allows FINFROCK to improve building quality and deliver buildings faster and at a reduced cost.
Minimized chance of building obsolescence
Building information modeling (BIM) technology has proved instrumental in commercializing the DualDeck® building system. Laser technology is used to position mechanical, electrical, plumbing, and fire-protection systems in the product. Casting these systems into an efficient structural product during manufacturing compresses schedules and minimizes site disruption. Long-span capabilities and easily accessible interstitial space permit unprecedented open floor plans capable of adapting your building to changing needs. With clear spans of up to 65 feet, the resulting open space lends itself to a myriad of possibilities: combining units, expanding tenant spaces, or completely changing a building's use.  When needs change, this access to interstitial gives you the ability to adapt building subsystems more easily to new uses. The flexibility of FINFROCK's DualDeck® Building System prepares your building for any future demands.
Accelerated schedules
Computer aided manufacturing driven by 3D modeling ensures dimensional accuracy in the product. The exceptional accuracy allows subsystem installation during manufacturing and can eliminate some subtrades such as ceiling, drywall, core drilling, and floor leveling. Simultaneously, while manufacturing precast components, FINFROCK has already begun site work so construction can begin as soon as components are ready for installation. Even during assembly of the structure, subtrades have access to portions of the building to further speed completion. Simply put, using the DualDeck® Building System gives you the power to increase your ROI.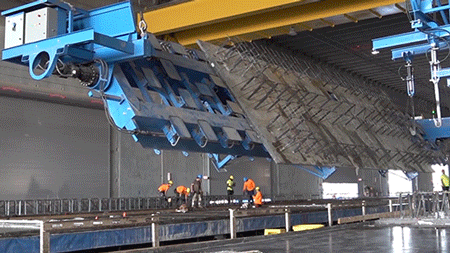 Versatility
The DualDeck® can have long spans, providing more open space and design flexibility. Smooth top and bottom surfaces allow flooring to be installed directly, without floor preparation, and paint to be applied directly to the concrete ceiling. The DualDeck® also has very low camber and members line up with exceptional accuracy. In DualDeck®'s infancy, FINFROCK first considered the flooring system as a perfect fit for parking structures. However, it became apparent that its best use was seen in finished buildings such as multifamily housing, due to the product's potential to improve the economic efficiency of other building types.