THE MODULAR BUILDING REVOLUTION IS HERE
When some think of modular construction, they imagine tiny homes on trailers trekking across the country, or shipping containers being repurposed into futuristic living quarters. But why not luxurious hotels, apartments, and office buildings? While modular construction has often been equated with small-scale-cookie-cutter design in the past, the industry is rapidly evolving. According to a 2020 Dodge Report on Prefabrication and Modular Construction, 93% of companies report that they achieve improved productivity, improved quality and increased schedule certainty when using modular construction methods compared to traditional construction.
Critical trends in the construction industry, such as compressed project schedules and
workforce shortages, are several drivers towards the adoption of modular. With factory controlled quality, reduced construction schedules and a smarter use of materials, modular construction is considerably more efficient than conventional building techniques. Are you ready to make the switch to modular?
5 REASONS WHY MODULAR CONSTRUCTION IS THE END OF THE WORLD AS WE KNOW IT (IN A GOOD WAY)
Are you relying on traditional design-bid-build and hoping to avoid the risks associated with the accompanying cost and schedule overruns? That world is about to change. FINFROCK has revolutionized the way buildings are delivered through the combination of advanced technology and a lean manufacturing mindset. Our vertically integrated building process takes modular concepts to a new level that even the most inspired minds wouldn't have imagined just a few short years ago –by increasing the speed of on-site construction and lowering both cost and risk for owners.
There is a lot more to modular than you may think. Here are five ways vertically integrated modular may be a whole new world of
opportunity for your next project.
01 RISK
By using a modular construction approach and delivering each project as a cohesive system, FINFROCK keeps your project moving forward from day one. This is an advantage when compared to traditional construction and delivery methods, where each step needs to be completed before the project can move on to the next phase. With FINFROCK's vertically integrated business model, our architectural capabilities are combined with concrete prefabrication and modular components to give you the best of both worlds. Overlapping many disciplines from permitting, to site work and final assembly –our projects provide lower general condition and finance costs, minimizing your risk of market changes that can occur over the course of a lengthy construction process. Because our team operates as a single-source of responsibility, every commitment, from the conceptual design phase to construction completion is guaranteed because you have one point of contact –us.
02 SPEED
One of the most important differences in traditional vs. modular building methods is schedule acceleration. Since construction begins off-site in a factory, usually before sitework starts, projects using modular components can often be completed up to 50% faster than traditional construction. When you work with FINFROCK, you gain the benefit of working with a team that conducts work in multiple phases of a project simultaneously. With multiple disciplines moving forward at the same time, schedules are significantly compressed. Reduced construction time directly results in reduced building cost. On average, switching to modular provides construction cost savings of up to 20%. The speed of modular construction is especially appealing for commercial use since business owners see a return on investment much sooner than with traditional construction.
03 DESIGN
With FINFROCK's modular building, you don't have to sacrifice beautiful design to get a better, faster method of construction. Innovative large-scale building projects such as multi-unit residential complexes, offices, and even parking garages receive customized architectural design without the constraints inherent in other building systems. Building Information Modeling (BIM), Virtual Design and Construction (VDC), and other significant advancements in technology have made the process of designing complex modular buildings easier than ever. FINFROCK's process also stems from a level of bottom-up repeatability, which means for developers and owners alike, the design phase is often one of the most rewarding parts of the process. FINFROCK's in-house teams work with levels of design and construction sophistication that exceed all expectations, rivaling their site-built counterparts.
04 QUALITY
Building offsite ensures better construction quality. Each component is designed with a high level of detail and manufactured by highly skilled personnel. And structurally, modular buildings are generally stronger than site-built construction because each module is engineered to independently withstand the rigors of transportation and lifting into place. At FINFROCK, our precast components are created with laser technology in factory-controlled conditions, assuring the highest quality products available for your project. Beyond quality control, one of the additional benefits of taking a manufacturing approach to construction is lower costs. Savings arise from the integrated processes involved in building modular components, which reduces errors often seen with field installations.
05 FLEXIBILITY
Just because building components are modular doesn't mean they aren't adaptable for future operations. When it comes to complete, finished buildings, FINFROCK provides greater interior flexibility with our patented DualDeck Building System® – a technology that took decades to perfect. Due to the precision manufacturing process of the DualDeck®, the component has a form-finished floor and ceiling surface, providing your project with less finishing costs. Additionally, the DualDeck®'s long-span capabilities allow for exceptionally large column-free space for current flexibility and for future needs. The DualDeck® proves how modular components deliver greater design flexibilities – by combining units, expanding tenant spaces, or completely changing a building's use.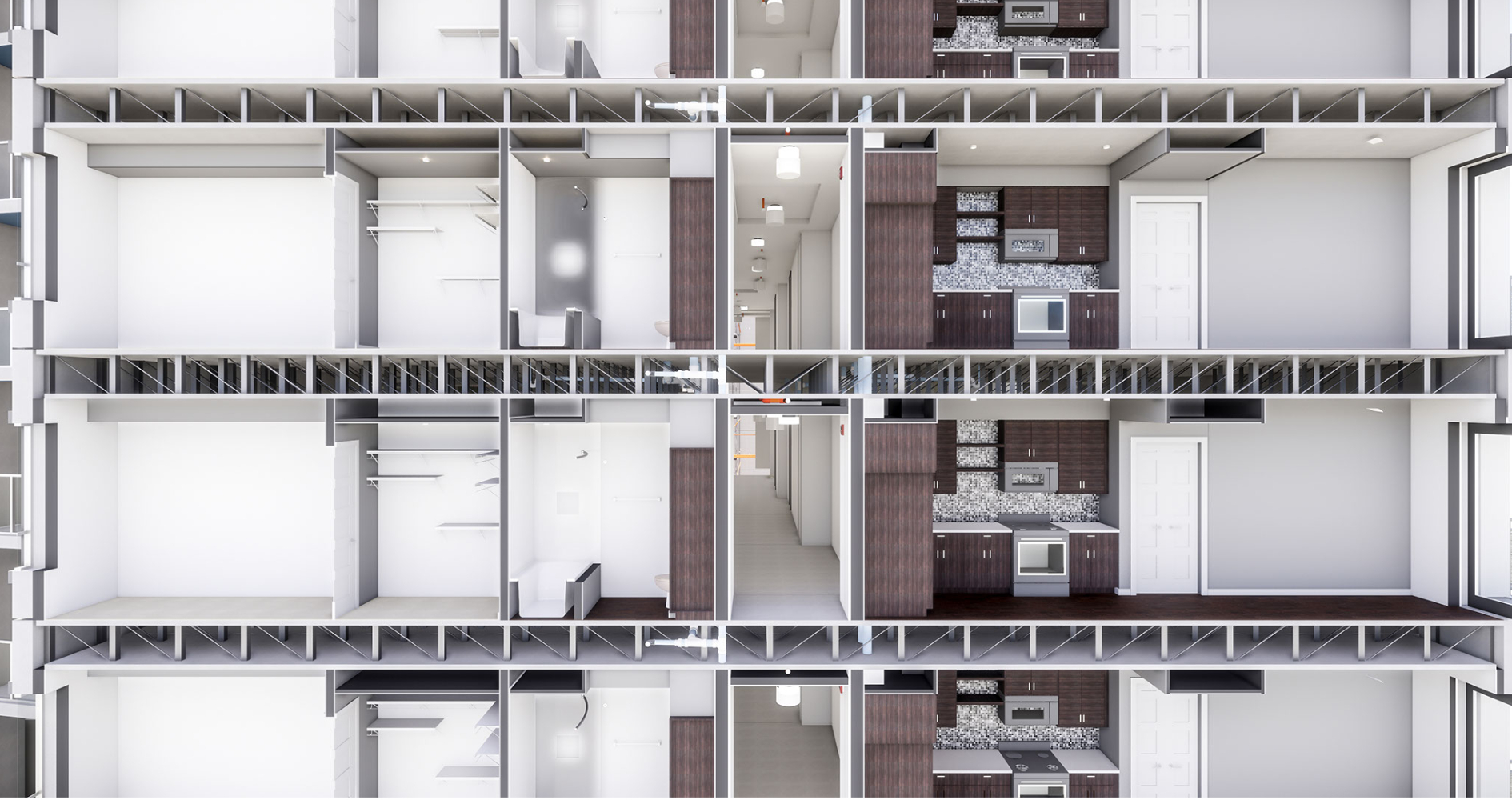 CASE STUDY: MAA ROBINSON
Developer: MAA
Systems Designs: Emerald Engineering
Civil Hardscape/Landscape: Kimley-Horn
The ability to maximize your amount of leasable square footage is always a factor when looking for a builder who can meet the needs of your site –especially when your development is in a hot-spot for luxury apartment construction like downtown Orlando. That's why Tennessee-based multifamily apartment developer Mid-America Apartment Communities Inc. (MAA) selected FINFROCK as the architect of record, engineer of record, precast modular manufacturer & installer, and general contractor for their latest luxury community. The 11-story, mixed-use structure features 369 apartment units, an attached 725-stall parking garage and 3,898 square feet of restaurant space for a total of 640,445 square feet. Faced with a difficult site for any developer to utilize, the conditions to build included the requirement of 200 extra stalls in the attached parking garage to be occupied by the original property owner who relied on the space for event parking. With in house architects and experienced cost estimators, FINFROCK created and priced an apartment and garage design that fit the cost needs of MAA while meeting the needs of other stakeholders. While MAA has not typically pursued the Design-Build method, FINFROCK's offsite modular approach proved to be highly successful when it came to timely construction during the toughest months of the Covid-19 pandemic. The opening of the apartments will precede other mixed-use developments in the area and is on track for final turnover in September 2021.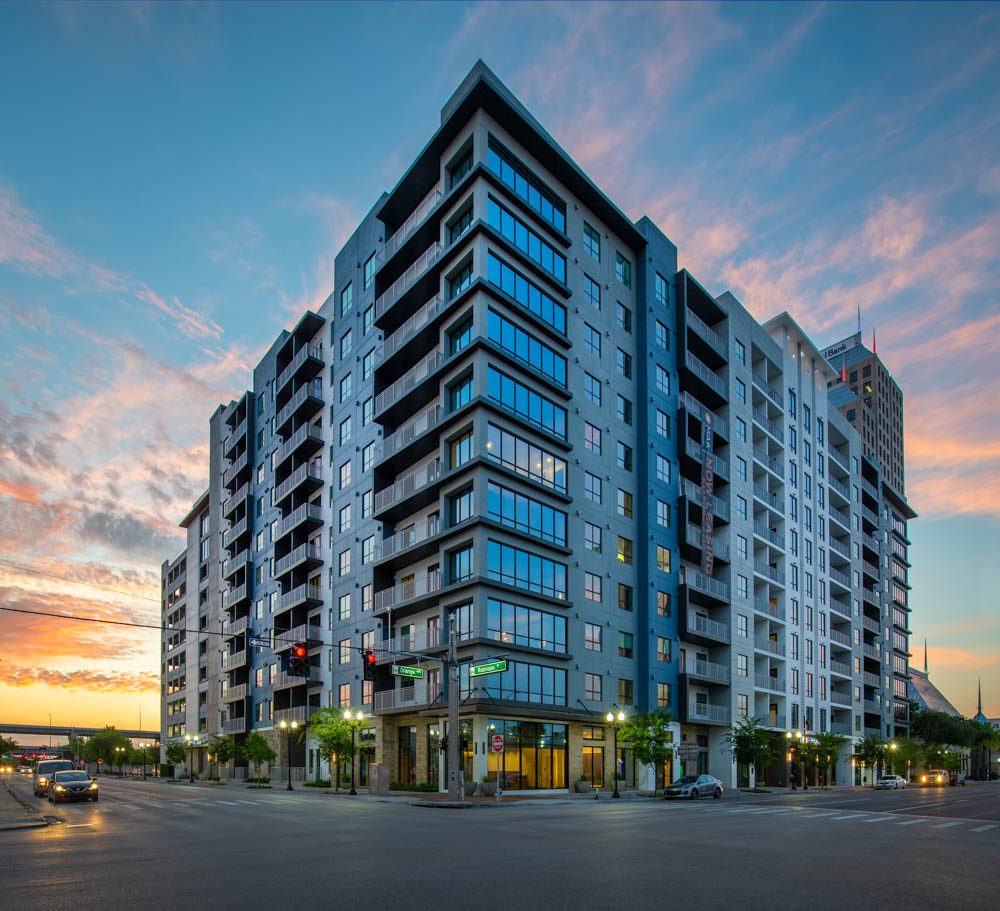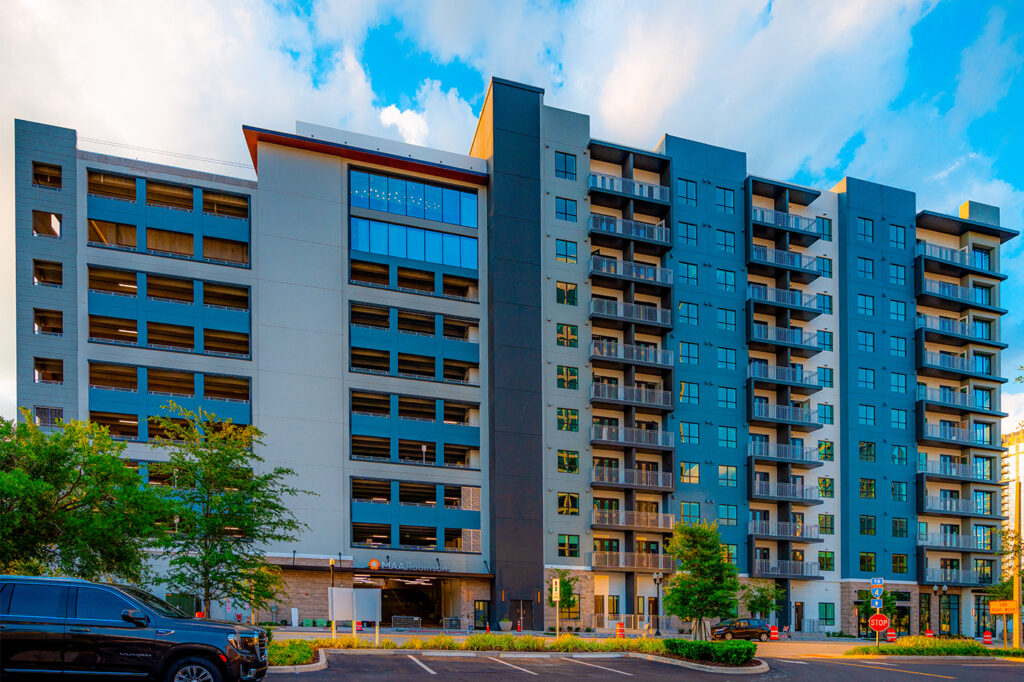 FINFROCK: GET THE BUILDING YOU WANT
At FINFROCK, our in-house architects and engineers work with you as a team from the onset, using your functional, aesthetic, and economic requirements to develop concepts that work. This allows you to receive an early, guaranteed price and schedule for your project. Through a combination of our in-house design, manufacturing experience, modular construction knowledge, and an outstanding database of cost information, FINFROCK develops accurate, below market pricing for your building, even with minimally developed plans.