The Associated Builders and Contractors' Central Florida Chapter is honoring FINFROCK's project, MAA Robinson, with the 2022 "Excellence in Construction Eagle Award" in the 'Multifamily/Residential/Construction' category!
Another Industry Award in the Books for FINFROCK
Only one project from each category and contract amount is awarded the first place Eagle Award. The project must also earn 80% or more of the eligible points and score highest in its category. We are extremely proud of our design, manufacturing and construction teams for receiving this recognition! FINFROCK is accepting Eagle Award during the annual awards banquet ceremony on October 22nd in Orlando.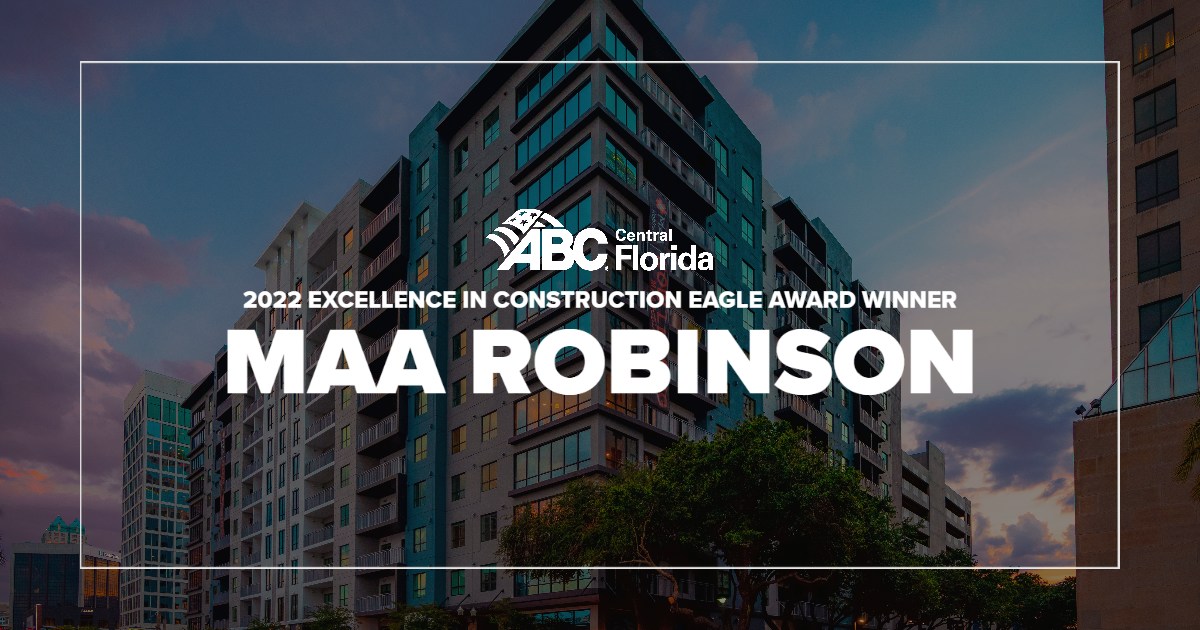 The Excellence in Construction awards program honors innovative and outstanding construction projects that stand out for their superior qualities. The winning projects are selected from entries submitted throughout the greater Orlando area and judged by industry experts in 24 award categories. Final decisions are made based on complexity, attractiveness, unique challenges overcome, completion time, workmanship, innovation, safety and cost. In June, the judges for FINFROCK's project tour included representatives from competing architecture firms. The tour was led by members of our executive team and Construction PM Giuseppe Solina.
MAA Robinson Expands Downtown Orlando's Luxury Rental Market
MAA Robinson is a stylish addition to the luxury apartment rental market in downtown Orlando. Throughout the pandemic, our project teams worked hard to deliver units to the owner despite supply-chain issues, labor shortages and general uncertainty in the industry. The end result is a gorgeous precast structure that highlights how versatile FINFROCK's DualDeck Building System is.