MULTI-FAMILY DEVELOPMENT:
WILL MY PROJECT BE PROFITABLE?
WE CAN TELL YOU UPFRONT- BEFORE YOU SPEND A DIME.

Urban multi-family development is on the rise due to the ever increasing scarcity of developable land. Investors and developers pursue and take on significant risks associated with traditional Real Estate deals with the traditional mindset that the higher the risk, the higher the reward. But what if you could lower your risk and increase your reward? FINFROCK'S delivery system goes far behind typical design-build models. Our complete building process addresses your project's aesthetic, functional, and budgetary concerns up-front, saving you time and money by forecasting potential difficulties and adapting quickly to changing conditions.
As a vertically integrated company, we train our designers in our manufacturing and construction processes, allowing them to design around what we can economically enables us to provide continual intercommunication avoids lengthy and costly redesign periods as decisions can be made on a value basis as the design progresses so that the overall budget and design stay aligned. FINFROCK is your single source of responsibility from concept through construction. Our vertical integration eliminates change orders caused by design and construction errors.
FINFROCK'S Economic Approach:
LOWER RISK AND SUPERIOR CAP RATE
FINFROCK is the business of performing design-build projects, so unlike traditional design firms, we are incentivized to design projects that make our clients money. Working with our clients throughout the entire investment process, we understand the cost drivers associated with successful real estate investments.
Adhering to a low lifestyle cost approach, we apply the best design and construction principles to meet the specific functional and economic requirements for our clients.
We do this by incorporating valuable input from past projects, including client satisfaction input and prior construction successes and setbacks.
In essence, every item specified as part of your project has undergone rigorous budgetary, constructability, maintenance, and aesthetic considerations before being tested. With this foundation of knowledge, we bring the right expertise to your project, saving you time and money and allowing you the maximum rate of return and a superior Cap Rate for your project upon completion.
Collaboration is the Cornerstone of our Culture

A typical project team could consist of individual firms that include separately contracted architects, engineers, builders and more.
FINFROCK performs all of these services under one roof to deliver a building as a single, unified product for our clients, rather than a disconnected series of services.
Working as your trusted advisor for the entire process, FINFROCK is your Architect of Record, Engineer of Record, Precast concrete manufacturer & installer, and General Contractor. By utilizing our in-house designers and construction team on every project, we leverage having the same teamwork together and make each project better than the last.
This ongoing collaboration is also known  as a continuous feedback loop. The loop continues through construction and is completed with our in-house maintenance professionals, allowing us to observe which details work best and stand the test of time.
Our culture of continuous improvement enables us to learn from every project and apply this knowledge to meet the unique needs of your project.
Experience a New Way to Build with FINFROCK
FINFROCK'S in-house team of architects, engineers, and construction managers employ our revolutionary systems to create luxurious living experiences for residents that work within your desired budget.
FINFROCK'S unique design-build model and complete vertical integration offer unparalleled interdisciplinary coordination and budget control.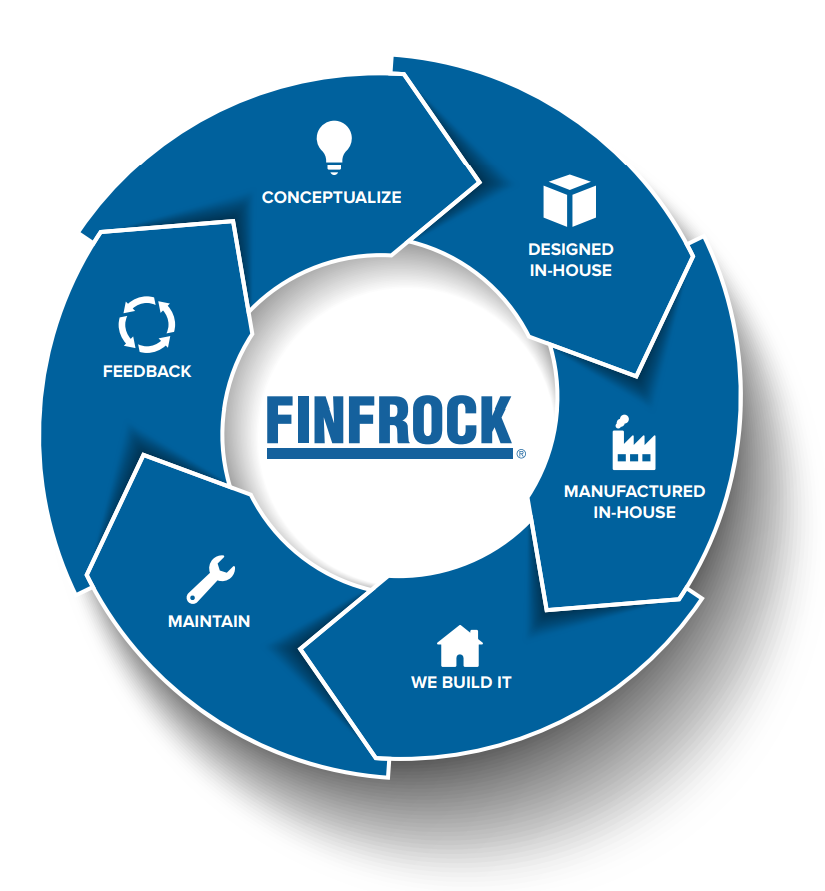 Our vertical integration enables us to provide a guaranteed price and a guaranteed schedule before being hired. As a design-build specialist, our expertise provides more efficient designs and improved long-term durability, contributing to lower construction life cycle and maintenance costs.
By building structures out of precast concrete, FINFROCK can accelerate schedules by overlapping each project's design and construction phases and delivering the precast components to the site in a just-in-time manner.
High Tech Innovation: The DualDeck®
FINFROCK'S DualDeck® Building System results from more than a decade of proprietary engineering and development- producing the type of disruptive technology that changes industries. Unlike typical construction methods, this building system can be highly customized to adapt to most any programmatic and design criteria. Mass customization means schedules can be accelerated, and costs can be reduced. Accessible interstitial space simplifies maintenance, reducing life cycle costs.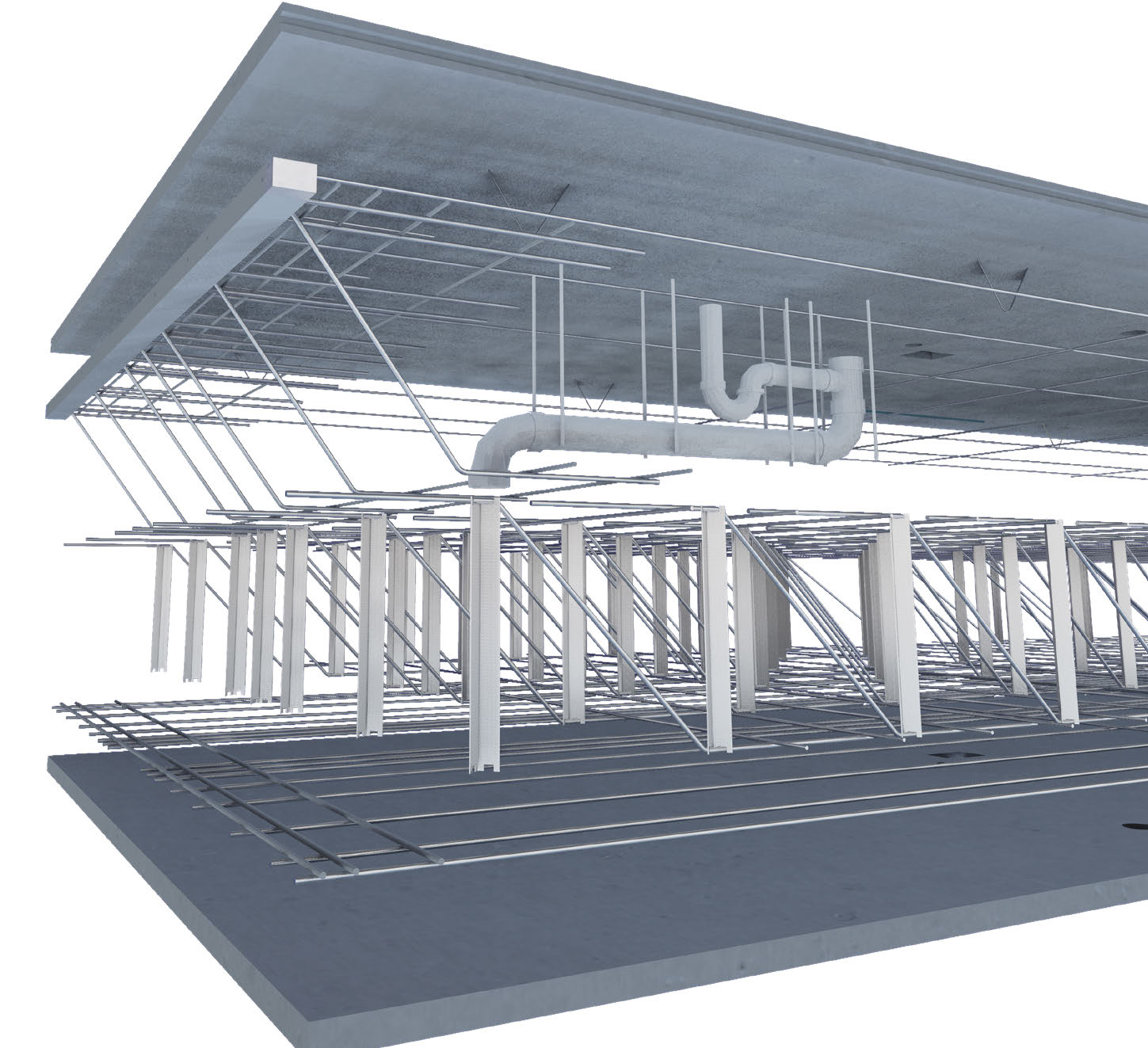 Unique Features and Superior Benefits:
Flat concrete floor surface. Eliminates sub-floor preparation.
Flat concrete ceiling surfaces, allowing minimal prep work and yields high end ceilings.
Long-span capabilities up to 68′. No intrusive columns allowing for maximal design flexibility.
Minimal vibration and sound transmission optimizing privacy for residents.
UL® certified two-hour fire rating for maximum safety.
Solid concrete construction for floors, ceilings, and walls with proven durability.
Interstitial space to allow for installation of subtrades in our manufacturing facility under controlled conditions, reducing errors and increasing construction speed.
Lightweight design, lighter than other concrete framing methods to save on foundation costs.
Accurate placement of electrical conduit, plumbing, and other utilities in floor slabs and ceilings occurs during the manufacturing of the DualDeck®
THE SCIENCE OF THE DUALDECK®
The DualDeck® Building System consists of a composite truss designed for long spans of column-free support. DualDeck® is made  by attaching two 2.5 in.-thick precast, prestressed concrete slabs with high-strength reinforcement and steel angles.
Each structural member is typically up to 14 ft wide, 68 ft long, and between 20 and 24 in. thick. The top panel of a DualDeck® is lifted out of the form and moved to a rotating vacuum table located in the center of the production area.
Once the top slab is inverted, it is set in the form where the bottom slab is being poured. The DualDeck® is complete once the bottom slab as cured.
Because panels are poured upside down and flipped over, both sides of the product are perfectly flat and smooth, making the surface ideally suited for finishing with minimal prep work.