FINFROCK is excited to welcome our 2022 summer Finterns and PDPs! We take the summer as an opportunity to have students come from all over the state and the nation to learn more about our DMC process. From doing rotations in manufacturing, quality control, engineering, and more, this boot camp week is a chance for the Finterns to learn from experts with experience at FINFROCK before starting their rotations in two different departments for the Summer. As for individuals in the Professional Development Program, PDPs, they experience each rotation in-depth, typically for around four to six months each. This gives them a thorough understanding of the DMC process, and benefits them in growing in their professional careers at FINFROCK. 
Fintern & PDP Boot Camp Week
This is the second annual summer boot camp for the Finterns and PDPs. This year, the boot camp included presentations from the Executive Team covering everything from the importance of inter-departmental communication to why FINFROCK's vertical integration makes the company a big competitor in the industry. The Finterns and PDPs were also paired with mentors based on their DiSC assessment compatibility and had the opportunity to participate in a variety of activities and events.
Seeing the DMC Process
In addition to participating in presentations and activities hosted by guest speakers, Finterns and PDPs were also able to tour a couple of our project sites: MAA Robinson and City Center. The MAA Robinson tour was lead by Giuseppe Solina (Project Manager) and the City Center tour was lead by Cady Rountree (Project Enineer). The tour gave students the opportunity to gain a deeper understanding of what goes into a project at FINFROCK and experience the different stages of the construction process.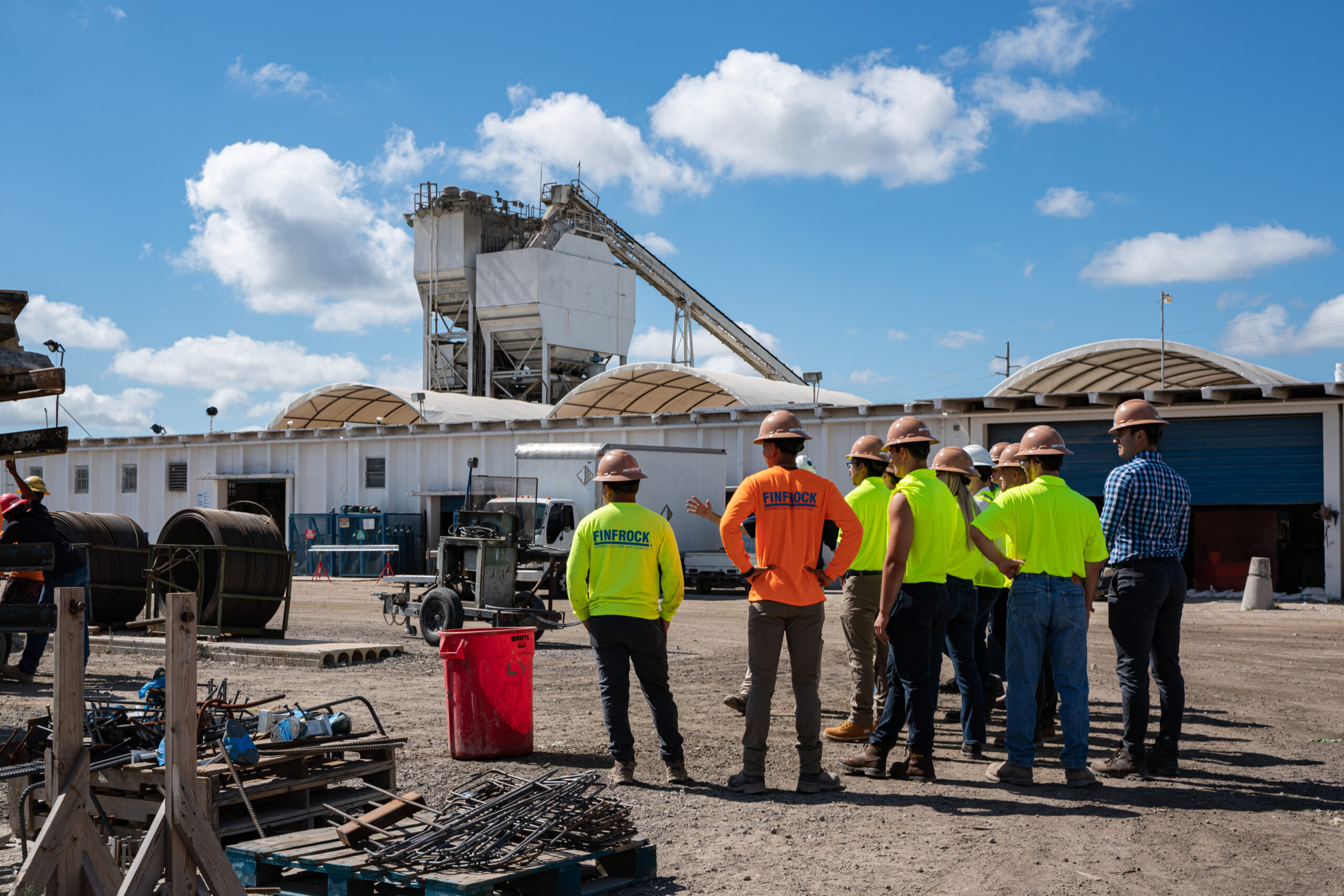 Additional Boot Camp week activities included:
A tour of the manufacturing facility from Robert Finfrock
A lunch and presentation at ACE Café with a speaker from the Orlando Economic Partnership
A bus tour of past projects in the Downtown Orlando footprint
A welcome cookout and courtyard fiesta
A team outing at Wekiva Island
Meet the Finterns in our First Ever Finterview Segment
During their first week here, we interviewed some Finterns regarding their experience at FINFROCK so far. We followed with more debatable questions to get to know them better based on their fun controversial opinions. Check it out below!
Recruiting for the Future
When it comes to careers in architecture, engineering and construction, our combination of company culture, building expertise and diversity of assignments is unmatched. With FINFROCK's portfolio of hotels, office buildings, parking garages, multi-unit residential structures, student housing and more – Finterns have the opportunity to see their academic experience come to life as they make major contributions to our project teams.
Our finterns gain hands-on experience while collaborating with architects, designers, engineers, project managers and technical leaders to explore the frontiers of engineering, manufacturing, design, and construction. Because we believe in growth from within and are always seeking new talent, our Finterns are also given strong consideration for full-time positions upon graduating.
A Finternship is more than just learning and work experience– it's an exciting chance to make new friends and mentors too. Thank you to all the mentors, presenters, support staff, and tour guides that helped make our first Boot Camp week a success!