Setting the Standard for Luxury Project Delivery
As urban neighborhoods continue to see a population influx, the demand for multifamily buildings continues to climb with over 11,000 units under construction in Central Florida in 2021 alone. For commercial real-estate developers, there has rarely been a better time to invest in Orlando, but the key is to work with a construction partner who is knowledgeable in all aspects of the design and building process. By understanding the dynamics of the highly competitive commercial real estate market and the needs of our clients, we were able to deliver one of the most valuable projects in our multifamily portfolio to date: Lake House. Because of our vertically integrated business model, FINFROCK acted as a single-source of responsibility for the project from design to completion.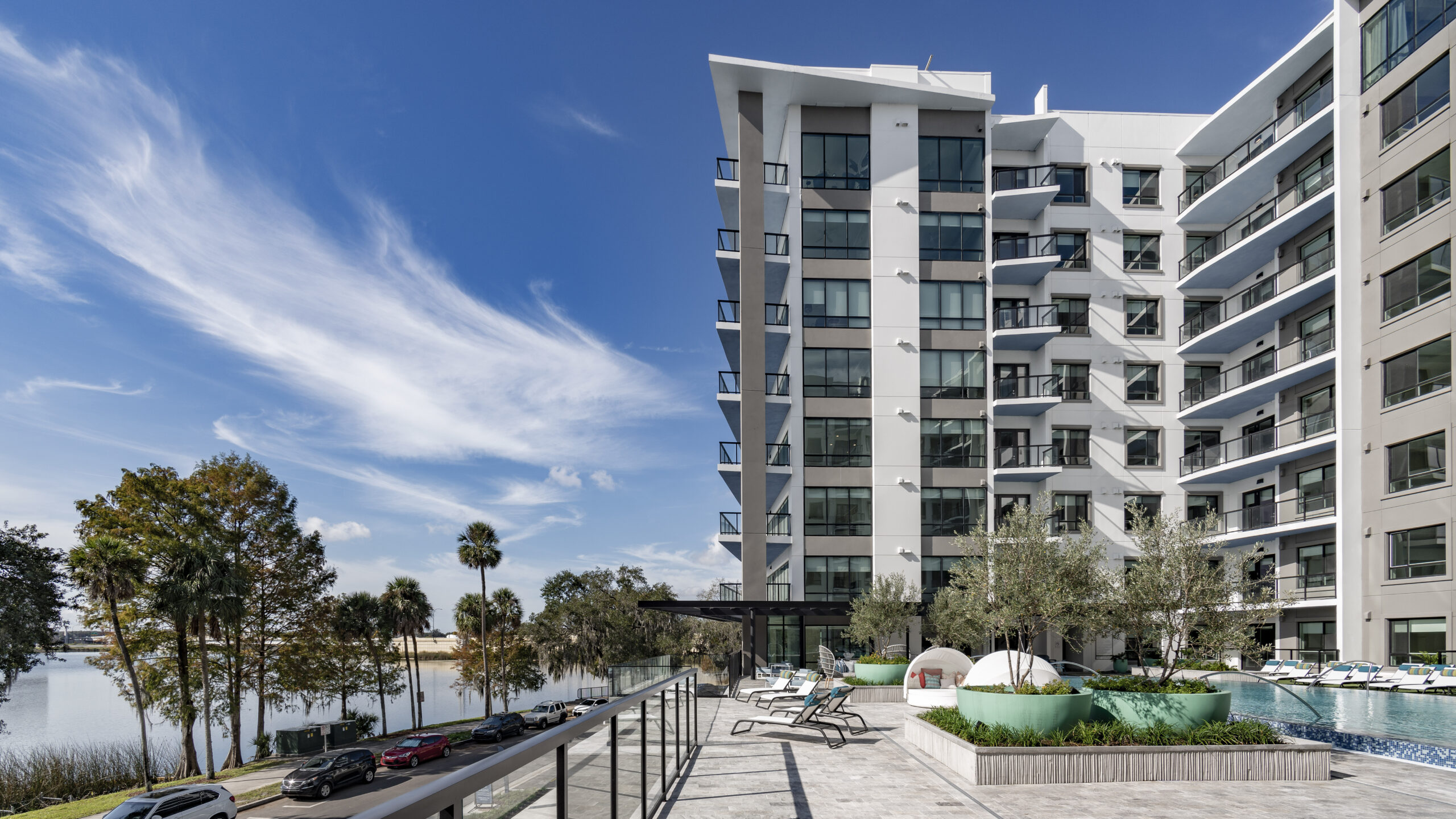 On October 27th, Lake House property at 295 NE Ivanhoe Blvd near Downtown Orlando was sold for $132.5 million for the 252-unit property, which is more than $525,793 per unit.
John A. Zeledon is now listed as the new manager of 111 Lake House JV LLC. The seller was represented by Brian Moulder and Chris Chadbourne of Walker & Dunlop Inc. Investment Sales.
As stated by Luke Wickham, the Institutional Property Advisors Orlando Senior Managing Director, "That's a big record for Central Florida- that's a gigantic number," he told OBJ.
Wickham defends and rationalizes the price tag of the property because he says "It's a phenomenal location, it's got really high rents and it's a cool, unique building. It's a gorgeous building, so this price doesn't surprise me."
Being listed at more than $12,000 a month, this multi-family development is known for having the most expensive apartment in Orlando's history.
Lake House inspires a higher standard of downtown living that blends simple pleasures and uncommon connections. This property has 252 luxury apartments with features and amenities including a fitness center, an elevated pool deck, a lounge for private events, a pet spa, electric car charging stations and a coffee bar. There's also color changing lights on the external lake-front side of the building that residents can change to celebrate special occasions.
The Lake House project was a joint venture between FINFROCK, OneEleven Residential LLC and Sumitomo Corp. of Americas.
High Tech Innovation: The DualDeck®
Utilized in the construction of Lake House, FINFROCK'S DualDeck® Building System results from more than a decade of proprietary engineering and development- producing the type of disruptive technology that changes industries. Unlike typical construction methods, this building system can be highly customized to adapt to most any programmatic and design criteria. Mass customization means schedules can be accelerated, and costs can be reduced. Accessible interstitial space simplifies maintenance, reducing life cycle costs.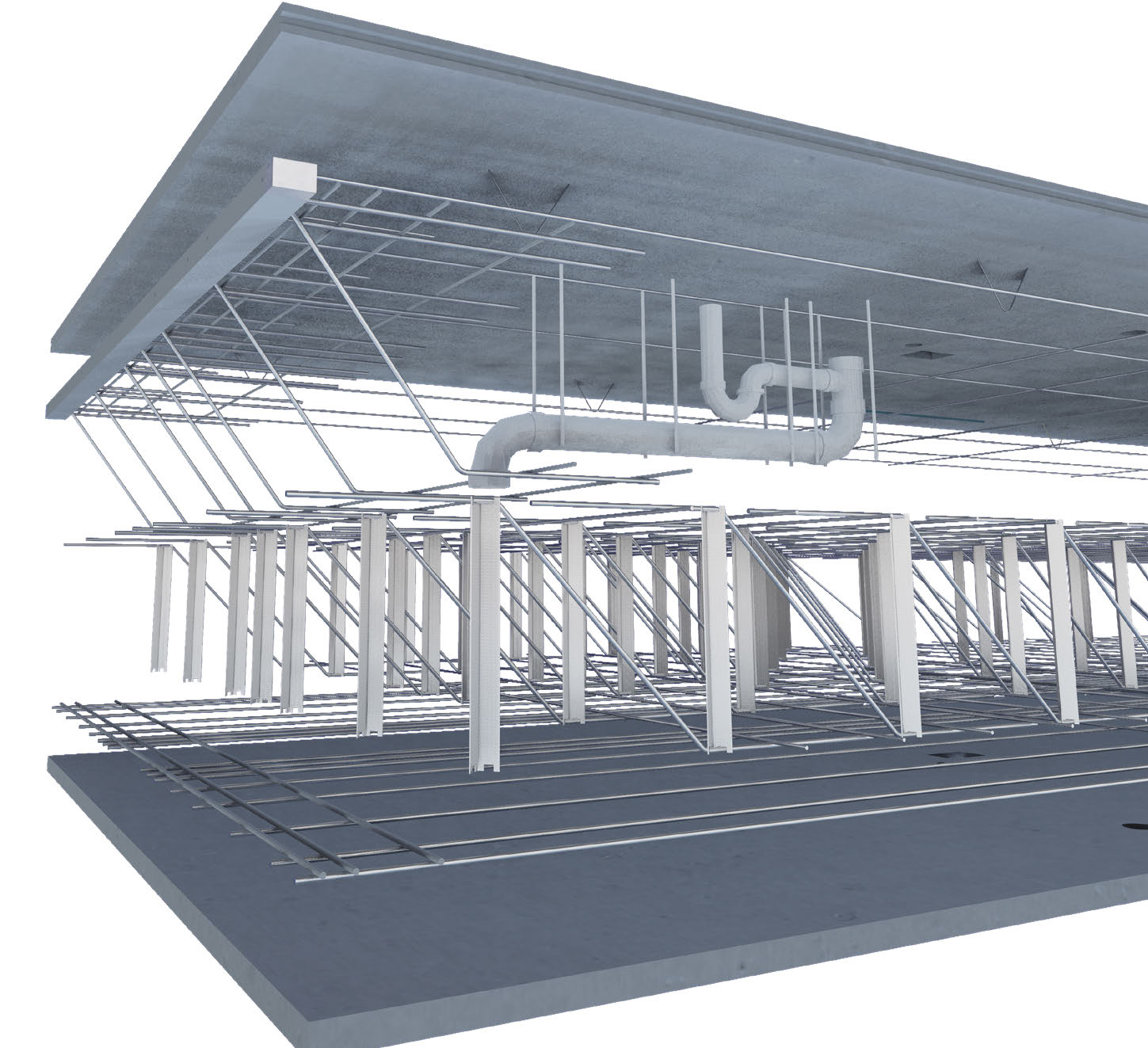 Unique Features and Superior Benefits:
Flat concrete floor surface. Eliminates sub-floor preparation.
Flat concrete ceiling surfaces, allowing minimal prep work and yields high end ceilings.
Long-span capabilities up to 68′. No intrusive columns allowing for maximal design flexibility.
Minimal vibration and sound transmission optimizing privacy for residents.
UL® certified two-hour fire rating for maximum safety.
Solid concrete construction for floors, ceilings, and walls with proven durability.
Interstitial space to allow for installation of subtrades in our manufacturing facility under controlled conditions, reducing errors and increasing construction speed.
Lightweight design, lighter than other concrete framing methods to save on foundation costs.
Accurate placement of electrical conduit, plumbing, and other utilities in floor slabs and ceilings occurs during the manufacturing of the DualDeck®